Sports
Unforgettable moments to stick | Pressportal
Unforgettable moments to stick | Pressportal
PANINI SWITZERLAND SA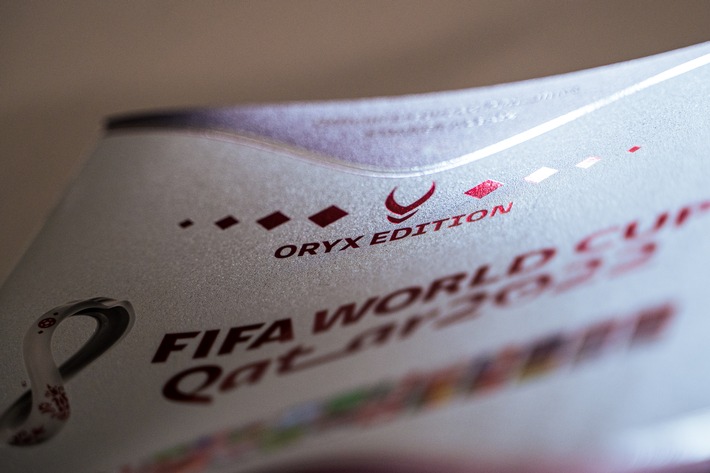 Wollerau (ots)
Fans' passion for football unites not only people around the world, but also entire generations: a tradition that Panini has brought together in its official collection of stickers for every championship since 1970. These are the same ingredients that make every FIFA(TM) World Cup an exciting and unforgettable football event. This year, Panini will launch the Panini FIFA World Cup(TM) sticker collection for the 14th time throughout Switzerland on Friday, September 2, 2022.
To celebrate this historic event that is the World Cup in Qatar, which will be held next November and December, the Panini FIFA World Cup(TM) Oryx Edition album is available for a limited time from Manor , with, k kiosk and Press&Books free of charge. The name of the edition, Oryx, pays homage to the emblematic antelope of the host country, Qatar. This edition will be available exclusively in Switzerland.
This collection comes in an eye-pleasing new design and delivers stats and facts, a must for any serious football fan and collector. Each of the 32 teams that have qualified for the final stage of the cup includes 18 players with the shirt and badges. Each team is made up of both seasoned players at the height of their careers and young talents who will be taking part in a major championship for the first time. The lineup, team photo, logo and football association among other qualifying details are also part of the collection.
In addition to its pages presenting the teams, the album presents the rich history of this major event. These historical facts have been compiled with the help of the FIFA Football Museum. Of course, as with all classic Panini FIFA(TM) World Cup collections, some decals depict the trophy, stadiums and official team symbols.
The album has 80 pages and can accommodate a total of 670 vignettes, including 50 special vignettes. In addition, the Panini FIFA World Cup(TM) collection offers the Extra Sticker for the first time. These rare Extra Stickers are randomly slipped into standard sticker pockets and are therefore not part of the main collection. For the Extra Stickers, photos of 20 players in action, football legends or new recruits, were chosen. These action stickers are available in different colors.
Facts and figures
The non-binding recommended retail price has not changed; it is 1.10 CHF for a pocket of 5 stickers and 3.90 CHF for the starter kit (album and 10 stickers). It is also possible to purchase the limited edition Treasure Box which includes a hardcover album and 100 sleeves of Oryx edition stickers at the non-binding price of CHF 125.00 in the Panini online store and at Press&Books.
The album and thumbnails will be available at newsstands, major supermarkets, malls, online store and convenience stores from September 2, 2022.
About Panini
The Panini Group was founded 60 years ago in Modena, Italy. It includes subsidiaries throughout Europe, Latin America and the United States. It is the world leader in collectible sticker pictures and a major multinational publisher of comic books, children's magazines and manga in Europe and South America. The company has distribution channels in over 150 countries and employs over 1,200 people. Further information can be found at www.paninigroup.com.
Contact:
Ezio Bassi, Managing Director Panini Switzerland
[email protected]
Such. 044 883 22 00
www.panini.ch
#Unforgettable #moments #stick #Pressportal